Four Elements meeting of the MORALE Project
Management Meeting and Field Study Visit
June 28-30 2022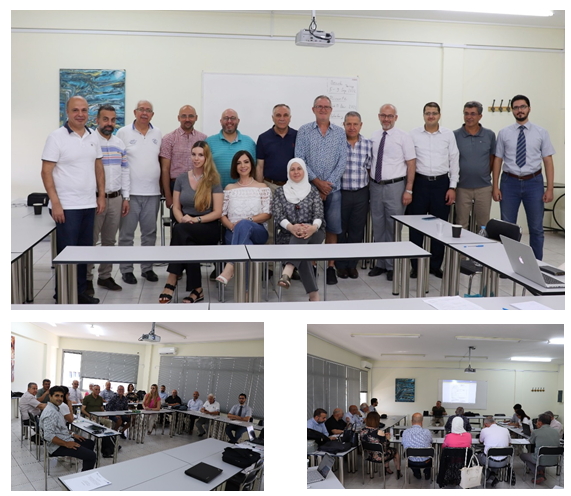 598318-EPP-1-2018-1-LB-EPPKA2-CBHE-JP
"Capacity building for curricula modernization of Syrian and Lebanese HEIs and lifelong learning provision: towards sustainable NGOs management and operation with special focus on refugees/Morale."
Hosted by Four Elements in Athens
After more than two years since the last face-to-face meeting due to Coronavirus (COVID-19) pandemic, a face-to-face meeting  of the MORALE Erasmus+ partners was held at 4-Elements premises in Athens with the participation of all partners and the virtual attendance of AlRasheed Association and the external expert.  Participants of all partners discussed the following:
The meeting started by stating the progress that the MORALE project has achieved in meeting the indicators of each workpackage and the challenges.
Rabih (UNIBO) gave a joint presentation with Dr. Alaa (AIU) about WP3 report, talking about the TOTs and their replications. He presented some indicators regarding TOTs and replications such as attendance, content, levels of trainings in both Lebanese and Syrian Universities, as well as their analysis, challenges and attendees' evaluation of both TOTs and replications, and the results.
Each partner HEIs has made two presentations; one on their curricula enhancement and the other on LLL course development.
Soubhi presented administrative and financial Management issues. Administratively, an extension request was submitted to EACEA. Financially, efforts were made to secure the second instalment after being granted  an exemption of the 70% condition after long discussions with the Lebanese NEO and EACEA.
A tender to purchase project equipment for Lebanese HEIs was announced in Lebanon and in Syrian HEIs. Partners agreed to hold national seminars in Lebanon & Syria in September & study visits to Alicante & Oldenburg.
Ali Khaddar (Alicante) presented NGO-related courses offered in EU and US universities & identified venues for improvement in the current curricula enhanced titles and content.
Ester (4-Elements) has presented the results of TOTs' replications satisfaction survey and a vitual meeting was held with the external quality expert.
A study visit to Elix NGO on the 3rd day was conducted to gain further insights into challenges that face NGOs working with refugees especially with children.